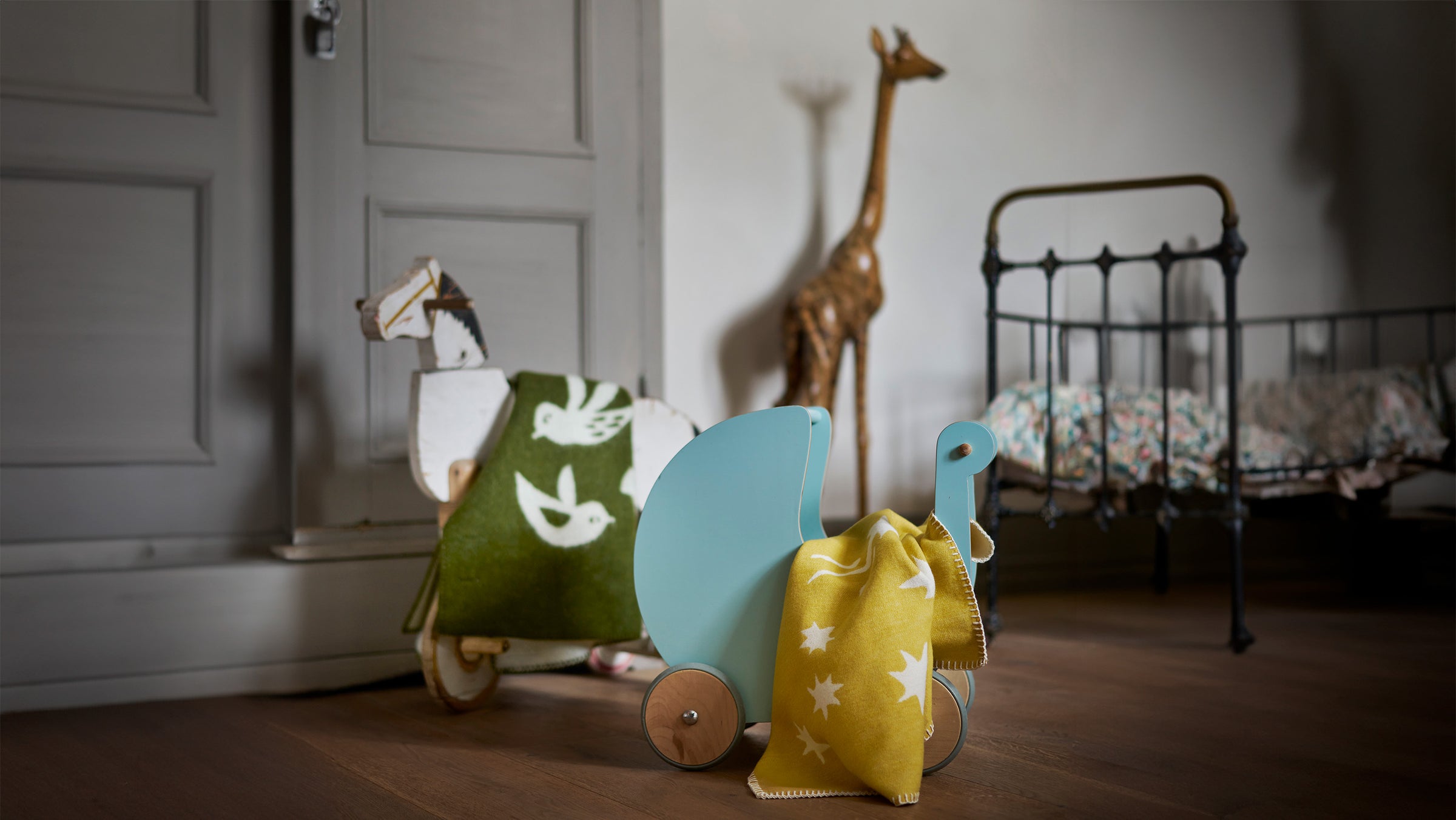 Wool blankets & wool blankets children
Wool for children & babies
Wool is one of the finest natural materials available. We always use lamb's wool for our children's and baby products. Lamb's wool that comes from the first shearing is both softer and more elastic than regular wool. We also have blends with merino wool and cashmere. Two types of wool that are extremely smooth and light, which feels soft and comfortable against the skin without itching.
In addition to being a climate-smart choice – wool is biodegradable – wool has unique properties. Wool is a breathable material. It warms and insulates when it's cold and also has the ability to transport moisture away. Many parents of young children choose to have a wool blanket in the pram, but wool also works well indoors.
Wool is naturally self-cleaning and antiseptic, which means that wool does not need to be washed as often as other materials. Often it is enough to air instead of washing. When washing, carefully follow the washing instructions included for your unique wool product.
Our blankets and throws are available in fantastic patterns and colors. We collaborate with some of Sweden's most well-known designers and like to highlight the playful. Great inspiration is drawn from the world of fables and the motifs of animals and nature are many. If you like classic and timeless design, there are nice, small children's blankets with various graphic expressions such as checks and stripes. With us, there is simply a blanket or plaid for every taste.
When only the best is good enough
Buying the first baby blanket for a newborn little bundle is a big deal. A blanket that should be there as a faithful companion on the journey home from BB and through the first years; in the pram, the cot and softly wrapped in your arms. Our hope is that the first Klippanfilt will be so loved that it will live on. Maybe little brother or little cousins ​​will inherit it, or you want to save it for future generations. It may happen that you sell it on second hand. Our products stand to be loved by many children.
About the environment, ethics and sustainability
If you choose a blanket or throw from us at Klippan Yllefabrik, you can be confident with your choice, regardless of whether it is a warming and beautiful wool throw with all its fantastic properties, or a soft and cozy cotton baby blanket.
We made a conscious decision early on to focus on environmentally friendly and sustainable textiles. For our children's and baby blankets, we only use natural, organic raw materials and we take no shortcuts when it comes to quality. All blankets and throws are manufactured with great care in our own OEKO-TEX certified factory. You can be absolutely sure that the baby blanket or children's blanket is free of toxic substances. Neither artificial fertilizers nor pesticides are used in the cotton plantations. The wool we buy in without intermediaries comes from lambs raised ethically without antibiotics.