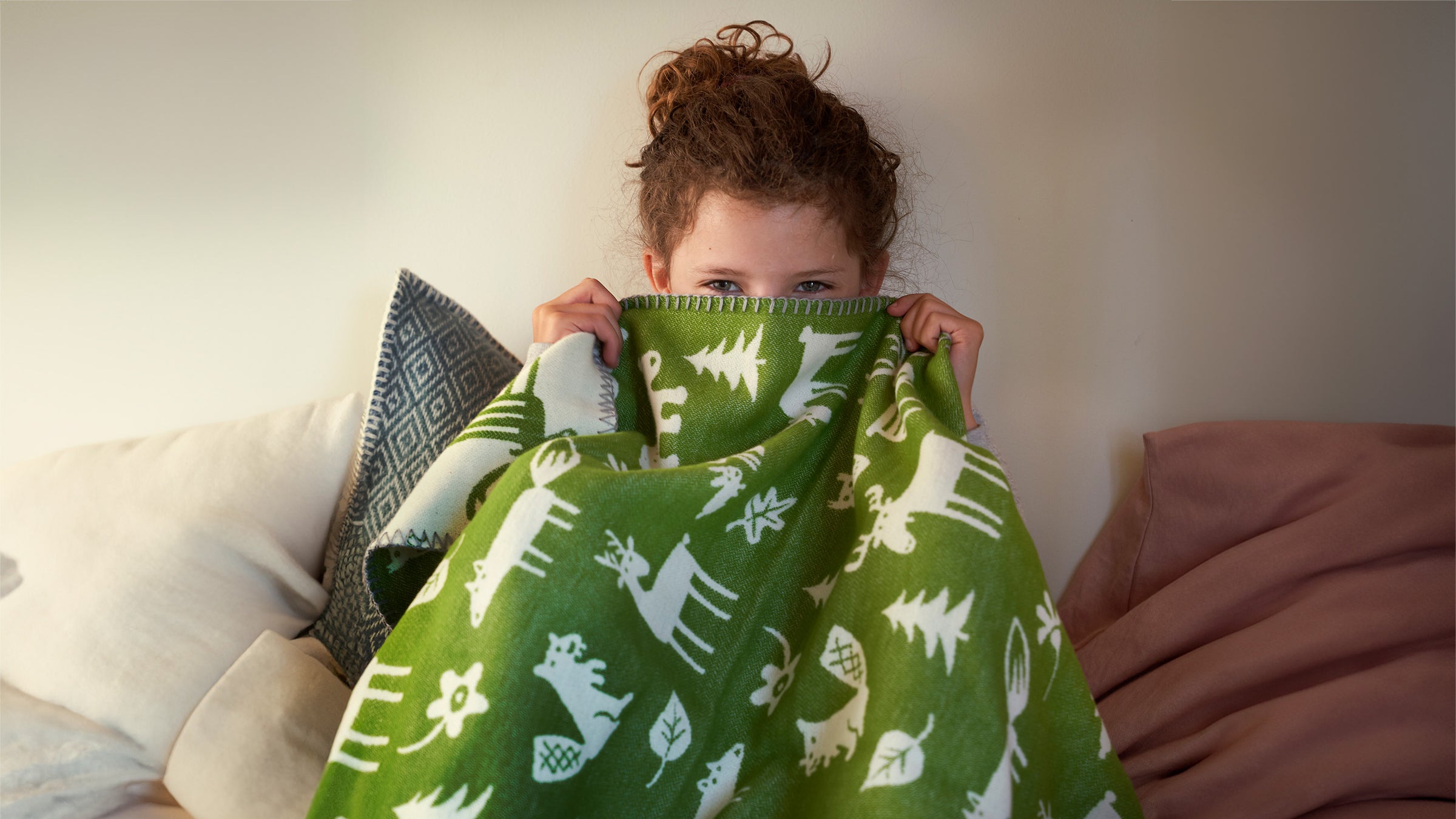 Children's cotton blankets
The cutest children's blankets in cotton
Cotton is soft and comfortable next to the child's skin. We have chenille blankets and brushed cotton blankets. Regardless of what you choose, you get a really comfortable baby blanket that is just as suitable for newborns as it is for older children.
We at Klippan Yllefabrik made a conscious decision early on to focus on environmentally friendly and sustainable textiles. For our children's and baby blankets, we only use natural, organic raw materials and we take no shortcuts when it comes to quality. All blankets and throws are manufactured with great care in our own OEKO-TEX certified factory. You can be absolutely sure that the baby blanket or children's blanket is free of toxic substances. Neither artificial fertilizers nor pesticides are used in the cotton plantations.
Playful patterns from the world of fables
Our cotton blankets are jacquard woven, which means that the pattern is mirrored and the colors reversed when you turn the blanket over. Here you can find striped blankets, dotted blankets and blankets with soft geometric patterns. There are blankets with motifs of forest wild animals such as moose and fox, but also lions, crocodiles and giraffes. Farm animals such as cute little sheep or cool cats are other popular motifs from our treasure of shapely designs. Everything in an inspiring color scale from dull and neutral to more colorful shades. Perfect if you want to choose a personalized gift for a baby shower, naming or christening.
With a blanket in 100% cotton chenille, you get a comfortable, easy-care blanket that fits just as well in the child's pram as in the bed. If you want the very finest quality, we recommend that you choose your favorite from our range of brushed cotton blankets. They are really super soft! In this lovely material, we also have small blankets in blue, pink and grey. Important to remember is that these blankets should be washed in the hand wash program.
Children's blankets that can withstand being loved
Buying the first baby blanket for a newborn little bundle is a big deal. A blanket that should be there as a faithful companion on the journey home from BB and through the first years; in the pram, the cot and softly wrapped in your arms. Our hope is that the first Klippanfilt will be so loved that it will live on. Maybe little brother or little cousins ​​will inherit it, or you want to save it for future generations. It may happen that you sell it on second hand. Our products stand to be loved by many children.